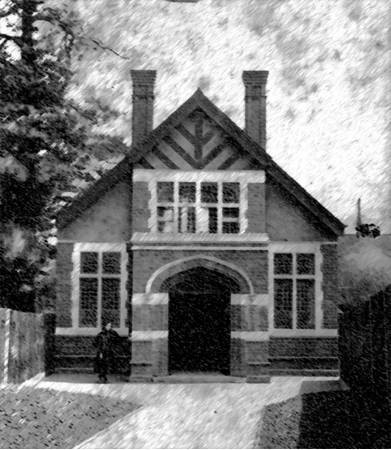 Bearwood Chapel a Brief History
The meeting at Bearwood was started by Mr & Mrs Swaine Bourne in 1879 in an upstairs room at the corner of Rutland Road. This soon became too small and the Bourne's had a meeting room built at the back of the shop at the top of the drive which is still there today. This was the first place of worship in Bearwood according to a newspaper article published in the Smethwick Telephone 15th August 1896 written by Frederick
It was in 1896 that Mr & Mrs Bourne had the current building designed and built as a thank offering to God for 25 years of marriage. Swaine Bourne had a stained-glass business and evidence of his work can be seen both in the Birmingham Museum and Bearwood Chapel. On Mr Bourne's death in 1923 the chapel was left in trust as it remains today.
The Sunday school was started in1893 by Mr Bennett. Other activities for children have been introduced over the years to supplement the work in the Sunday school. In 1913 a licence was granted for the solemnization of marriages and since 1968 registrars have been appointed from members of the chapel. Growth in membership continued between the wars and during this time 86 were baptised. Extra rooms and facilities were added in 1951,1966 and 1977 to cater for the continued growth of the fellowship.
From the 1990s onwards, the Chapel began to employ full time workers whilst maintaining a commitment to plural leadership and every member ministry. Patrick Rush was the first full time worker and he served here from 1994-2005 before going to to be the principal of the Birmingham Bible Institute. Currently, we employ a pastor who serves as part of the eldership team and a communities and families worker.
In 2012, recognising the need to always be outward looking as we seek to make disciples, we committed to do three things:
1. To multiply the number of gatherings so that we would be available wherever and whenever people wanted to gather to hear God's word and to worship Him.
2. To purchase the building at the top of the drive in order to open up a High Street Presence.
3. To take on trainees wherever possible as part of our commitment to wider gospel mission
We started by adding a second Sunday morning serice and soon after that, we began a cafe style evening gathering. In 2015, with the help of our friends at Raglan Road Christian Church, we began a Spanish speaking congregation meeting on a Saturday evening. Through our ActBC project we remain commited to this vision of making disciples in order to see Bearwood and Beyond Transformed by the Gospel.